When it comes to outdoor living spaces, open-air kitchens have become the ultimate addition to any home. They offer a unique blend of convenience and natural beauty, allowing homeowners to cook, dine, and entertain al fresco while enjoying the great outdoors. Creating outdoor custom kitchens is more than just adding a grill to your backyard; it's about enhancing your lifestyle, embracing nature, and making outdoor cooking and dining a seamless part of your routine. In this 2000-word blog, we'll explore the wonderful world of Open-air Custom Kitchen, its benefits, design ideas, and how they bring convenience and nature together.
The Allure of Outdoor Custom Kitchens
The concept of Custom Outdoor Kitchen Design has gained immense popularity in recent years. People are realizing that they don't need to sacrifice comfort and convenience to enjoy the great outdoors. Instead, they can combine the two by creating a personalized open kitchen space that caters to their culinary desires while embracing the beauty of nature.
How to Build an Outdoor Kitchen?
To build an outdoor kitchen, start by planning your layout and choosing a suitable location. Select durable materials for countertops, cabinets, and flooring that can withstand outdoor conditions. Install essential appliances like a grill, sink, and refrigerator, and connect them to utilities as needed. Design comfortable seating and kitchen dining areas, and consider adding shade with a pergola or canopy. Don't forget proper lighting for both functionality and ambiance. Finally, ensure proper ventilation and follow safety guidelines. Building an outdoor kitchen can transform your backyard into a culinary oasis for entertaining and relaxation.
Designing Your Outdoor Cooking Spaces
Designing your open-air kitchen is an exciting journey that combines functionality and style. Decide if you want a grill station, a pizza oven, or both. Choose the perfect location in your backyard that offers a balance between convenience and a beautiful view. When it comes to materials, opt for durability; materials like stainless steel, stone, and weather-resistant wood work well. Don't forget proper lighting for extended use, and consider adding a cozy seating area. Customization is key – think about outdoor bars, kitchen sinks, refrigerators, and other features that align with your cooking style. With careful planning and attention to detail, your open-air custom cooking spaces can become a culinary haven where you can enjoy delicious meals amidst the beauty of nature.
Nature-Inspired Outdoor Kitchen Design Trends
Outdoor kitchen design trends are continually evolving to enhance functionality, style, and convenience.
Natural Materials: Using natural materials like stone, wood, and granite for countertops and flooring is a timeless trend. These materials not only look stunning but also withstand outdoor elements, creating a seamless transition between the kitchen and nature.
Multifunctional Cooking Appliances: Modern outdoor kitchens are equipped with versatile appliances such as hybrid grills (combining gas and charcoal), pizza ovens, and smoker boxes. These additions allow homeowners to explore various cooking techniques and flavors in their outdoor culinary adventures.
Integrated Technology: Outdoor kitchens are getting smarter with the integration of technology. This includes weather-resistant TVs, wireless speakers, and even Wi-Fi-connected grills and smokers. These tech features enhance entertainment options and convenience.
Open-Air Structures: Many outdoor kitchens are now designed under open-air structures like pergolas or retractable awnings. These structures provide shade and protection from the elements while allowing for natural ventilation and a comfortable outdoor dining experience.
Outdoor Bars and Beverage Centers: Incorporating a bar area with a sink, refrigerator, and seating is a growing trend. It creates a social hub for cocktails and refreshments, making outdoor entertaining even more enjoyable.
Fire Features: Incorporating fire features such as fire pits, fireplaces, or fire tables into outdoor kitchen designs is a popular trend. These elements not only provide warmth on cool evenings but also add a cozy and inviting ambiance.
Color Variety: While stainless steel appliances remain a classic choice, outdoor kitchen designs incorporate a wider range of color options. Colored countertops, cabinetry, and decorative tiles are being used to inject personality and style into the outdoor kitchen.
Open-air Custom Kitchen Dining Solutions
Outdoor dining solutions offer a delightful way to savor meals in the open air. Whether it's a simple patio setup or an elaborate alfresco dining area, these solutions cater to a variety of preferences. With weather-resistant furniture, cozy seating arrangements, and ambient lighting, you can create an inviting space for family and friends to gather and enjoy meals together. From casual picnics to elegant dinner parties, outdoor dining solutions make it easy to relish the beauty of nature while sharing good food and memorable moments, turning your outdoor space into a charming extension of your home.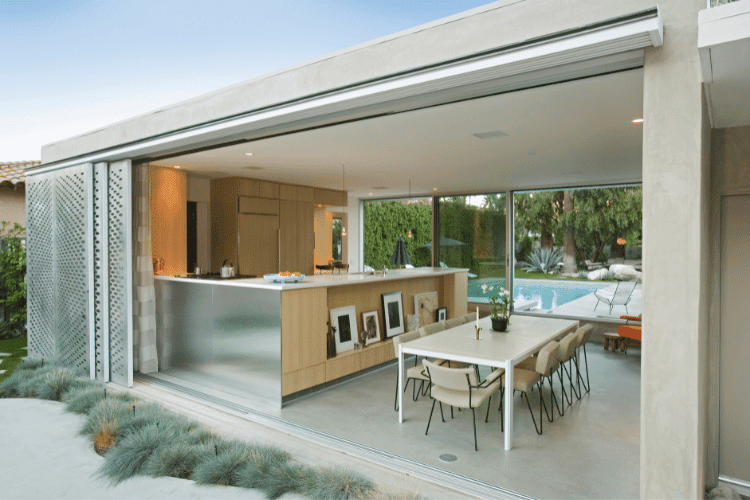 Customizing Your Outdoor Custom Kitchens
Customizing your outdoor kitchen is the key to creating a space that suits your unique preferences. Whether you're a grill master, a pizza bar, or a Drink specialist, there are endless options to choose from. Consider adding an outdoor bar for socializing, a wood-fired pizza oven for a taste of Italy, or an outdoor sink and dishwasher for easy cleanup. Don't forget about comfortable seating and dining areas, which can be personalized with your choice of furniture and decor. With the right customization, your outdoor kitchen will not only be a functional cooking space but also a stylish extension of your home, designed just the way you like it.
Al Fresco Cooking Spaces
Al Fresco cooking spaces, often referred to as outdoor kitchens, are all about taking your culinary adventures outside. These spaces allow you to cook, grill, and prepare delicious meals while enjoying the fresh air and natural surroundings. Whether it's a simple grill station, a wood-fired pizza oven, or a fully equipped outdoor kitchen, Al Fresco cooking spaces make dining an immersive outdoor experience. They're perfect for hosting gatherings, barbecues, or simply savoring a quiet meal in the beauty of your own backyard. With Al Fresco cooking, convenience meets nature, creating memorable moments and enhancing your outdoor lifestyle.
Backyard Kitchen Remodeling
Backyard kitchen remodeling is a fantastic way to transform your outdoor space into a functional and inviting culinary oasis. Whether you're looking to upgrade your existing setup or start from scratch, it offers endless possibilities. You can create an open-air kitchen with top-notch appliances, cozy seating, and stylish décor. This renovation allows you to enjoy outdoor cooking, dining, and entertaining while appreciating the natural beauty of your backyard. From grilling to baking in a wood-fired oven, a backyard kitchen remodel brings convenience and charm to your outdoor lifestyle, making it a valuable investment in your home's overall appeal.
Benefits of Outdoor Custom Kitchens
Expand Your Living Space: One of the primary advantages of a Garden Custom Kitchen is that it expands your living area. It provides an additional space for cooking, dining, and entertaining guests, making your backyard a functional extension of your home.
Fresh Air and Natural Surroundings: Cooking outdoors allows you to breathe in the fresh air and enjoy the sights and sounds of nature. It's a refreshing departure from the confines of an indoor kitchen.
Energy Efficiency: Outdoor cooking can be energy-efficient. You'll rely less on indoor appliances, reducing your energy consumption and utility bills.
Increases Property Value: Investing in an Outdoor Gourmet Kitchen can significantly increase the value of your home. Potential buyers are often drawn to homes with well-designed outdoor living spaces.
Modern Open Air Cooking Spaces
Modern outdoor cooking spaces redefine the way we experience culinary delights in the great outdoors. These spaces seamlessly blend functionality, aesthetics, and innovation. Featuring state-of-the-art grills, smokers, and outdoor appliances, they cater to the desires of today's discerning chefs. Sleek and stylish design elements, along with durable materials, create a contemporary ambiance while withstanding the elements. With integrated technology, such as wireless thermometers and smart grilling apps, outdoor cooking has never been more convenient. Modern outdoor cooking spaces are where gourmet cuisine meets nature, offering a cutting-edge and enjoyable way to prepare and savor meals outside.
Luxury Outdoor Kitchen Ideas
Luxury outdoor kitchen ideas elevate outdoor living to a whole new level. These opulent designs combine functionality and beauty, featuring high-end appliances, premium materials, and impeccable craftsmanship. From gourmet grills and wood-fired pizza ovens to beautiful stone roofs and custom cabinetry, every element exudes luxury.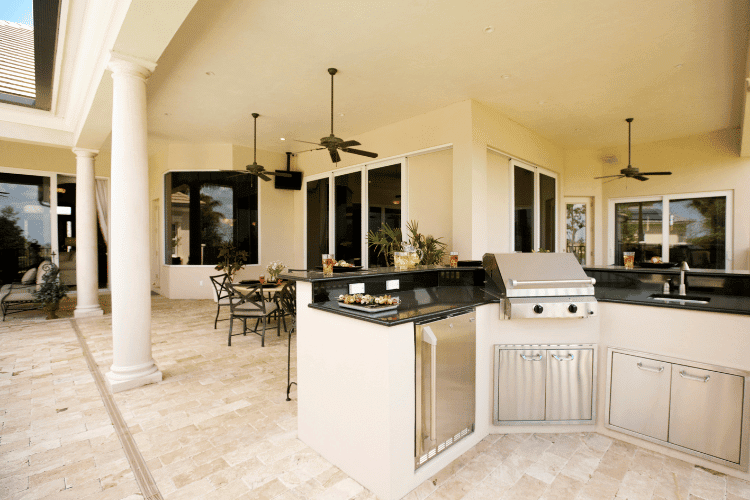 Fancy outdoor kitchens sometimes have comfy chairs, nice lights, and even stuff for fun outside. You can make a super nice cooking place in your backyard with these thoughts. You can have friends over, eat yummy food, and enjoy being outside.
Maintaining Your Outdoor Custom Kitchens
Maintaining your outdoor kitchen is essential to ensure it stays in top shape season after season.
Regular Cleaning: Keep your grill, countertops, and appliances clean to prevent rust and maintain a fresh appearance.
Check for Wear: Inspect your outdoor kitchen for any signs of wear and tear, especially after harsh weather.
Cover Up: Invest in weather-resistant covers to protect your equipment and surfaces when not in use
Clear Drainage: Ensure proper drainage to prevent water buildup, which can damage your outdoor kitchen.
Inspect Gas Lines: If you have a gas grill, check for leaks in the gas lines regularly for safety.
Conclusion
Custom outdoor cuisine offers the perfect blend of convenience and nature. They allow you to savor the outdoors while cooking your favorite meals and entertaining loved ones. Whether you're grilling up a feast, baking pizzas in a wood-fired oven, or simply enjoying a morning coffee in the fresh air, you're Exterior open air Kitchens can become the heart of your home's outdoor oasis. Embrace the convenience, savor the flavors, and immerse yourself in the beauty of outdoor living.
FAQs
What lighting options work best for Outdoor Gourmet kitchen spaces?
For outdoor kitchen spaces, consider LED under-cabinet lighting, pendant lights, and adjustable task lighting to ensure both functionality and ambiance, even during evening cookouts.
What is the typical expense associated with constructing an Open-air Bespoke kitchen?
The cost of constructing an outdoor kitchen can vary widely depending on factors like size, materials, appliances, and features, but it typically ranges from $5,000 to $20,000 or more.
Are smart technology and open-air kitchens a popular combination?
Yes, smart technology and outdoor kitchens are indeed a popular combination. They offer convenience with features like Wi-Fi-connected grills, outdoor speakers, and weather-resistant TVs.